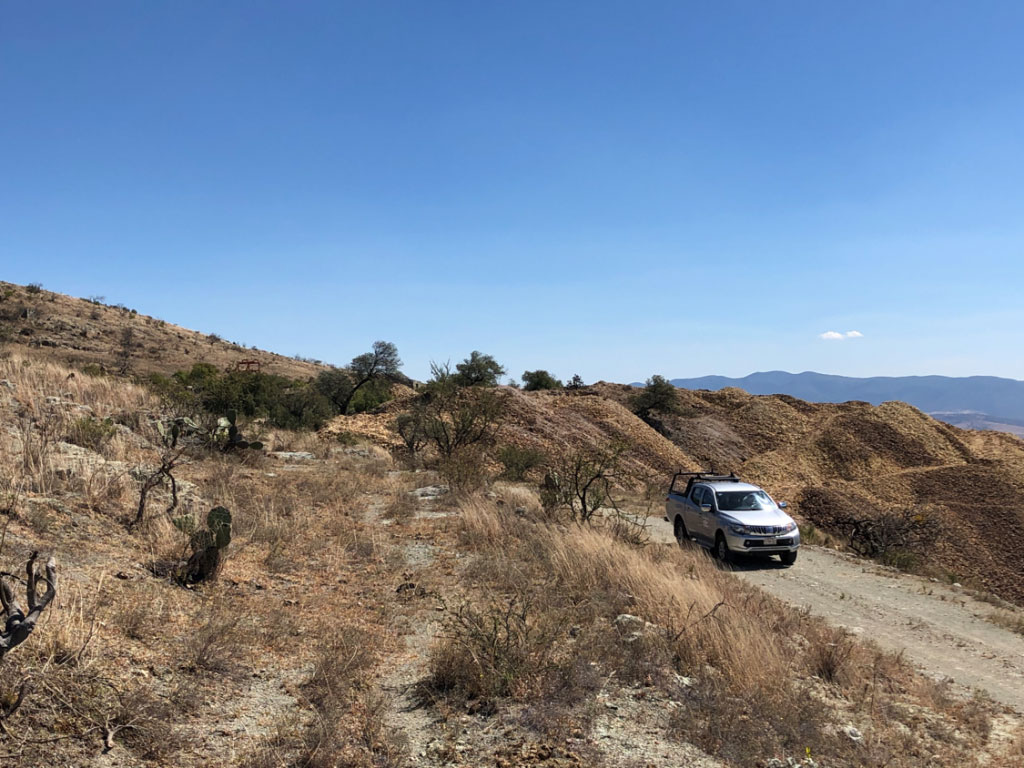 Introduction
Guanajuato Silver's project, El Pinguico, is located in the region of Guanajuato, Mexico – an area with over 500-years of rich mining history – and is a historic high-grade silver and gold mine that was in production from the late 1880s until 1913.
Today, the El Pinguico Property totals 71 hectares and is comprised of two mining concessions - El Carmen and El Pinguico. The Project is located seven kilometers southeast of Guanajuato City, Mexico with easy road access. The historic mine is in close proximity (2-30 kilometers) to several active, modern mining operations. These operations include Endeavour Silver's El Cubo and Bolanitos mine and mill complexes, Fresnillo PLC's Las Torres mine and mill operation, and Great Panther Mining's Guanajuato mine complex which includes the San Ignacio mine.
In 2017, Guanajuato Silver completed sampling programs of the mine's underground and surficial stockpile material to quantify its exploration potential. Guanajuato Silver will be commencing an underground drill program for December 2020 with a surface drilling program to follow in Q1 2021.
---
Drill program
Underground drilling targets are set to commence in December 2020, primarily from the Don Ricardo target area. The first phase of drilling will consist of approximately 2,100 meters of drilling in 12 holes at drill stations located at the end of crosscuts within the mine. Surface drilling will commence in Q1 2021 and will consist of approximately 4,000 meters of drilling in 13 holes. An additional three holes will be drilled to test for the extension of the regional Veta Madre (Mother Vein) fault structure.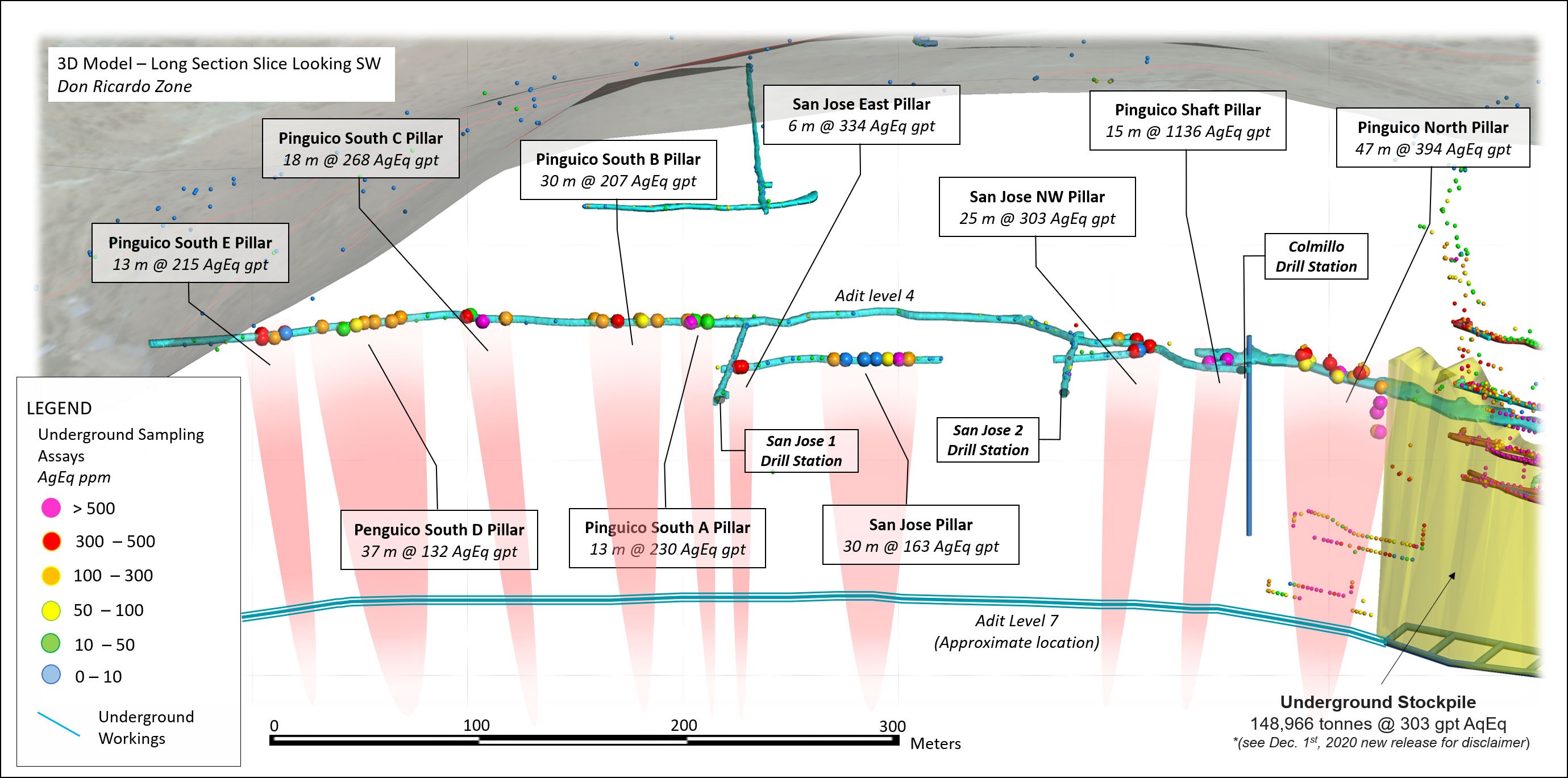 UNDERGROUND STOCKPILE OF MINERALIZED MATERIAL
Inside El Pinguico exists a large stockpile of broken mineralized material from the mine's closure in 1913. From 1959-2017, surveys have been completed by the Mexican Geological Survey1 – Consejo de Recuros Minerales (CRM) and Servicio Geológico Mexicano (SGM) - and Guanajuato Silver to estimate the stockpile's size and grade.1
Survey
Estimated Underground Stockpile Tonnage
Estimated Underground Stockpile Grades
1959: Consejo de Recursos Minerales (CRM)2
103,415
3.2 g/t Au and 288 g/t Ag
2012: Servicio Geológico Mexicano (SGM)3
25,600 (certified tonnes)
1.67 g/t Au and 166 g/t Ag
71,228 (uncertified tonnes)
-
2017: Guanajuato Silver.
N/A
1.75 g/t Au and 183.5 g/t Ag
In 2017, Guanajuato Silver's consulting geologist and QP Carlos Cham Domínguez completed a re-sampling program on the top of the stockpile to validate the historical estimates using NI 43-101 sampling standards.4 This survey consisted of 57 samples from 20 trenches (historic and new trenches), where the trenches were made to an average length of 6.42 meters. These results yielded average grades of1.75 g/t Au and 183.5 g/t Ag.
The results from Guanajuato Silver's 2017 sampling program confirmed the grades found by SGM in 2012, as most of the individual assay results and the overall average grades are similar for both gold and silver values. The results from the CRM study in 1959, however, show considerably higher gold and silver values than either SGM's or Guanajuato Silver's sampling. The higher results in the 60-year-old CRM study could be attributed to dilution or coverage of the stockpile due to occasional falls of waste rock from the walls of the open stopes as they appear today.
1Guanajuato Silver cautions that the historical estimates done by the CRM and SGM were made prior to the adoption of NI 43-101, do not comply with the categories of classification set out in NI 43-101 or CIM guidelines, have not been verified and should not be relied upon. Additional work is required to verify the tonnage and grade of any minerals in the underground stockpile. A "qualified person" as defined under NI 43-101 has not done sufficient work to classify these historical estimates as current mineral resources or mineral reserves and Guanajuato Silver is not treating such historical estimates as current mineral resources or mineral reserves. They are shown to give the reader a full account of historic work on the property.
21959: Consejo de Recursos Minerales (CRM) - The volume was estimated by a topographic survey of the pile surface and the volume of workings from historical mine plans, whereas the tonnage was estimated by trench sampling of the stockpile. In addition, the CRM reported 4,921 tonnes with an average grade of 5.4 g/t Au and 424 g/t Ag of in-situ vein material using their channel sampling program at that time. (CRM 1959).
32012: Servicio Geológico Mexicano (SGM) - The certified tonnes were established through trenching of the stockpile and giving their results an influence of 5 meters depth. Whereas, the uncertified tonnes were extrapolated from the bottom of the stockpile with no official grade was assigned.
4All samples were collected, recorded, bagged and sent by Guanajuato Silver's consulting geologist to ALS Laboratory in Guadalajara, Mexico for sample preparation. Gold, silver and multi-element ICP analysis was completed at the ALS laboratory in North Vancouver, Canada. Rock samples were fine crushed (70% passing a 2mm screen), pulverized (85% passing a 75 micron screen) and a pulp split separated for assaying by a riffle splitter. 30 gram portion of each sample was assayed for gold by standard fire assay and a 10 gram split was analyzed for 35 elements by ICP method. Standard reference material and blank samples were inserted into the sample stream at a 5% insertion rate with pulped samples from the underground stockpile for quality control purposes. The results of the standards and blank samples were satisfactory. All data was collected with industry standard practices and assay results were verified by Guanajuato Silver's consulting geologist.
SURFACE STOCKPILE OF MINERALIZED MATERIAL
On the surface of the El Pinguico Project is an additional large stockpile of material, which originated as waste material from the El Pinguico shaft during mining from circa 1904-1913.
In 2012, a private company commissioned by the then owner of El Pinguico calculated the volume of the surface stockpile as 92,849.5 m3, with a surface of 15,769.40 m2.
In January 2017, Findore S.A. DE C.V. (Findore), a private geological services company engaged by Guanajuato Silver, surveyed 10 trenches at different locations and depths of the stockpile, resulting in 20 samples (two samples per trench, one at the top and one at the bottom). The samples confirmed there was no movement of economic values from the surface to the bottom of the stockpile due to weathering or erosion over time. The samples' average grades as follows:
Top samples 0.62 g/t Au, 80.6 g/t Ag (1.78 g/t AuEq)
Bottom samples 0.43 g/t, Au 61.1 g/t Ag (1.32 g/t AuEq)
Based on the foregoing, Guanajuato Silver estimates the surface stockpile comprises approximately 175,000 to 185,000 tonnes of material grading between 0.45-0.52 g/t Au and 67-70 g/t Ag (1.25 g/t-1.35 AuEq). The potential quantity and grade of the surface stockpile are conceptual in nature as there has been insufficient exploration to define a mineral resource, and it is uncertain if further exploration will result in the stockpile being delineated as a mineral resource.