GUANAJUATO SILVER COMPANY Ltd.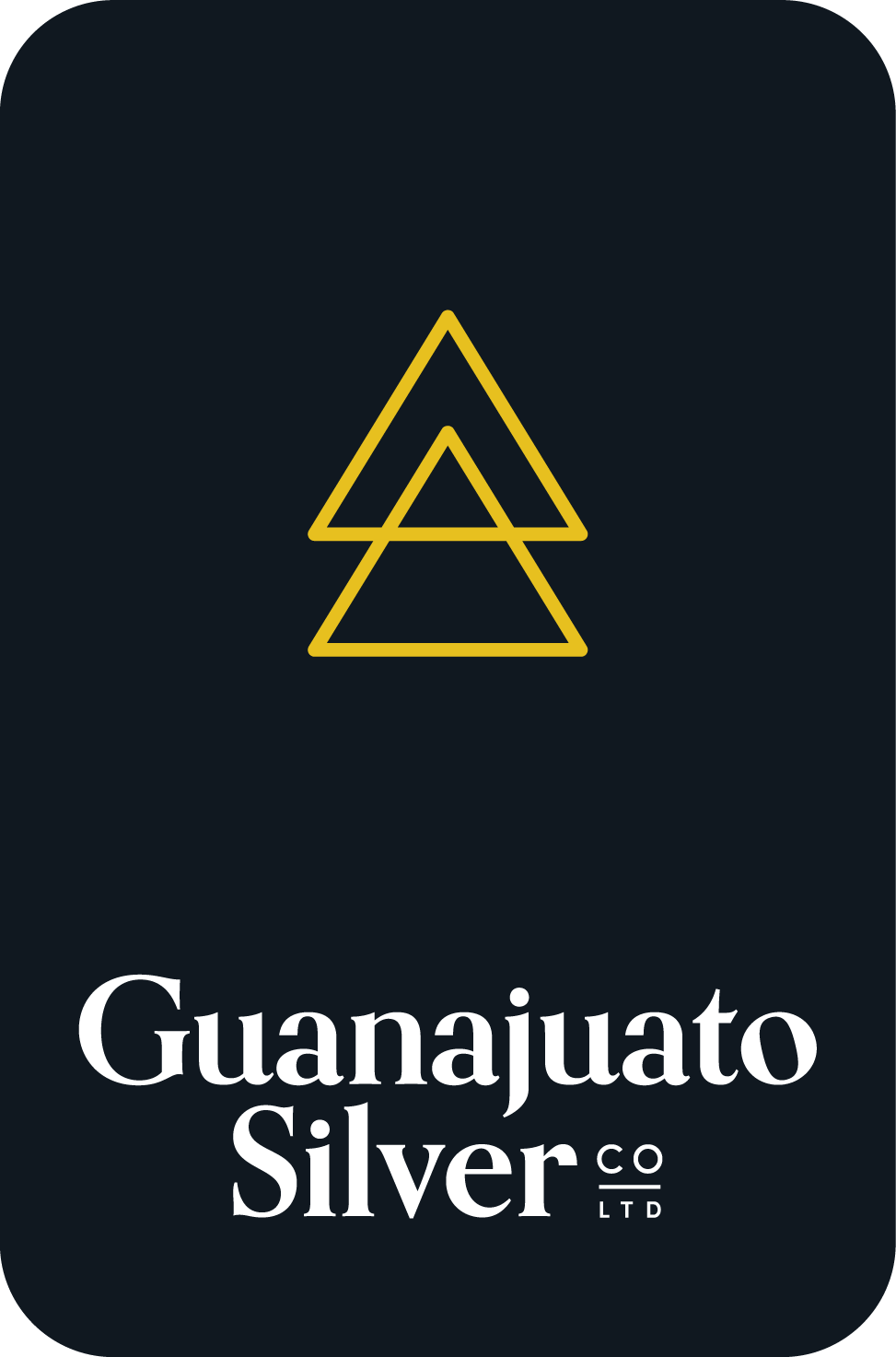 Guanajuato Silver (GSilver) is engaged in reactivating past producing silver and gold mines near the city of Guanajuato, Mexico. The Company's El Cubo mine and mill project, recently purchased from Endeavour Silver for US$15m is the current focus of the company as it refurbishes this substantial mining asset and readies it for production in Q4 2021.
The company's other substantial project - El Pinguico - is located just 8km by road from El Cubo, is a significant past producing silver and gold mine in its' own right and will contribute significantly to the availability of mineralized material for the El Cubo mill. (NB: GSilver has recently changed its name from VanGold Mining Corp.)
THE GUANAJUATO SILVER COMPANY LTD STORY – GSILVER
The Game Changer
El Cubo Mine
Near term production
GSilver purchased the El Cubo mine in April 2021 for US$15m.
Mining on the El Cubo Complex has occurred since the 17th century. The Sierra structure, which includes the El Cubo Mine and the adjacent Peregrina Mine, accounts for much of the gold and silver produced in the Guanajuato district. At El Cubo, gold was originally mined from shallow pits near the San Eusebio vein, which later produced significant amounts of gold and silver this century. In the 19th and 20th centuries, mining at El Cubo focused on northwest striking veins known as Villalpando, Dolores, La Loca, and La Fortuna.
With a rated capacity of 1,500 tonnes per day, the El Cubo Complex includes two underground silver-gold mines and a flotation plant and will employ approximately 150 people and 250 contractors when operations resume - scheduled for Q4 2021. For the year ended December 31, 2018, previous owner Endeavour Silver produced a total of 4,578,940 silver equivalent (AgEq) ounces at the El Cubo Complex at an all-in sustaining cost (AISC) per ounce of US$8.86 (2019 - 1,923,944 AgEq ounces at an AISC of US$14.85).
THE EL CUBO MILL AND MINE COMPLEX
Recently acquired from Endeavour Silver Corp. for US$15M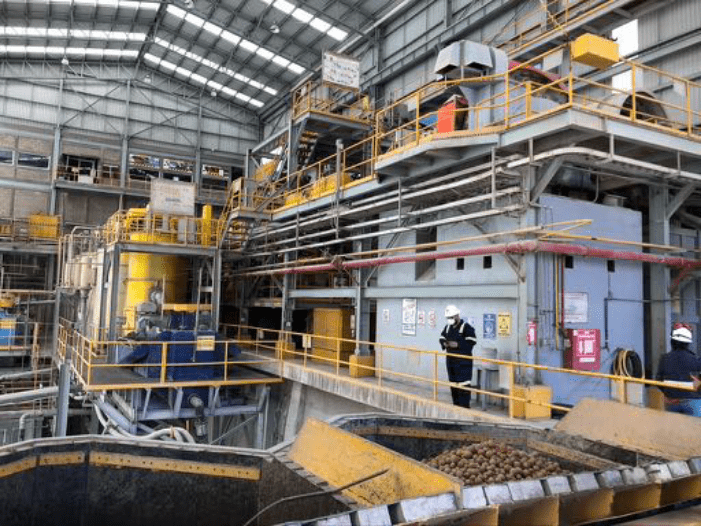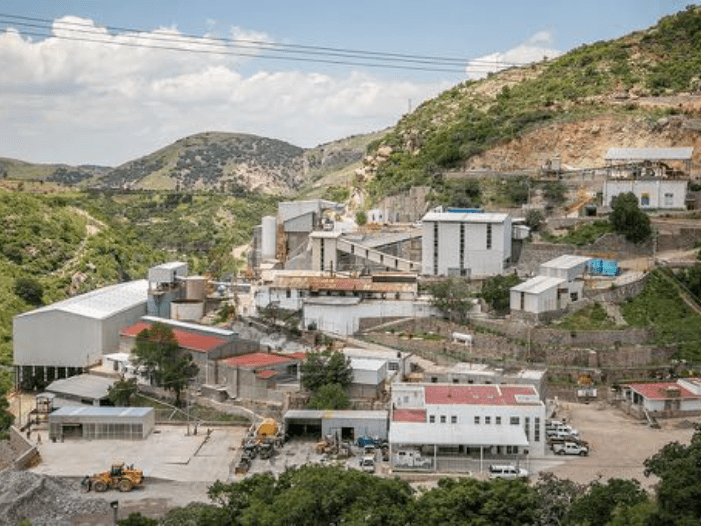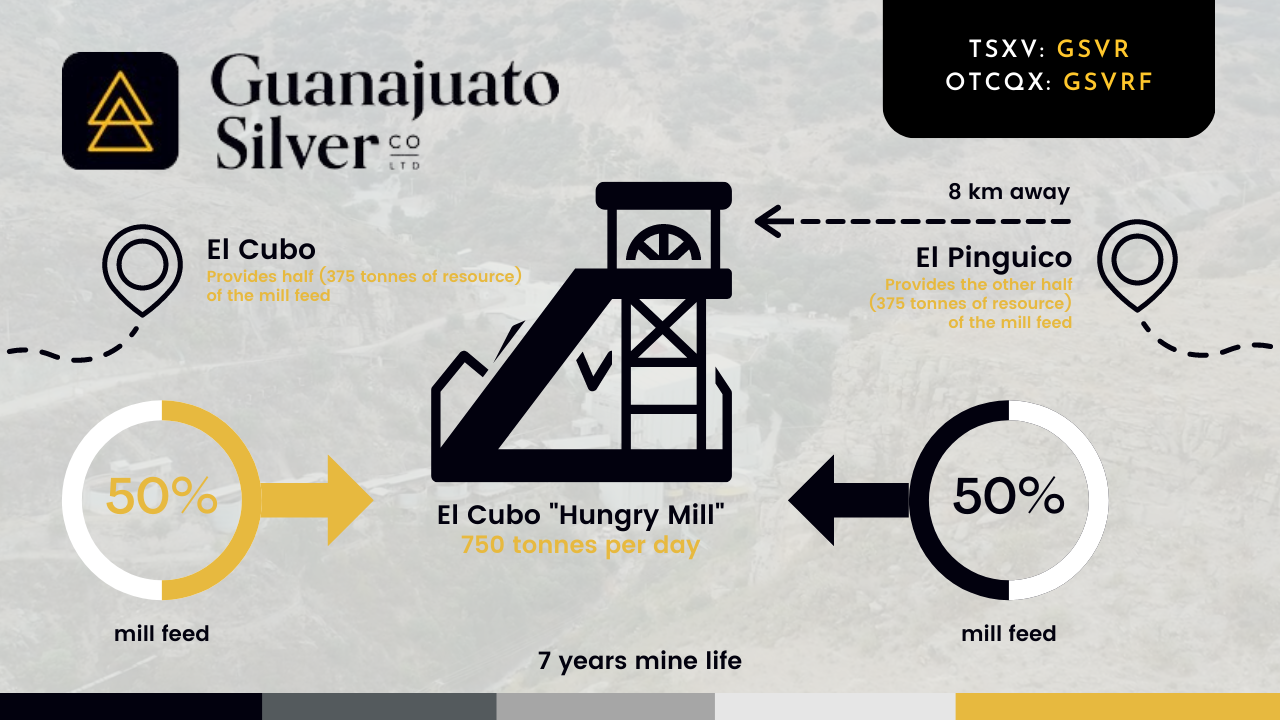 'Guanajuato Silver's El Cubo mine has a 508,000 tonne indicated resource with an average grade of 329 g/t AgEq - and a 1,453,000 tonne inferred resource with an average grade of 435 g/t AgEq - that is ready for development and mining – aiming for Q4 2021!

Coupled with the stockpiles from historic mining at El Pinguico GSilver aims to quickly turn mineralized rock into cash.



CEO James Anderson filmed in the El Cubo mill in mid-May, 2021.

There's lots of work to do to get the operation rolling again at El Cubo, but our team is planning the work and working the plan – take a look at more site photos from inside El Cubo mill below:
more El Cubo project photos to explore
GSILVER CO.'S FIRST PROJECT - EL PINGUICO - WAS THE HIGHEST GRADE MINE IN THE REGION FROM 1890-1913

…rich shoots are seldom found in nature to recur so often in any mine as they are found here.

---
PROFESSOR ROBERT T. HILL C.1906
Mining ceased at El Pinguico in 1913. Today, GSilver's current resources are remanants of mining from that era: 185,000 tonnes of material grading 105 g/t AgEq on surface, and an underground stockpile of much higher grade.
1906 Reports on the Pinguico mine in Guanajuato Mexico
(IN SUPPORT OF THE NYSE LISTING)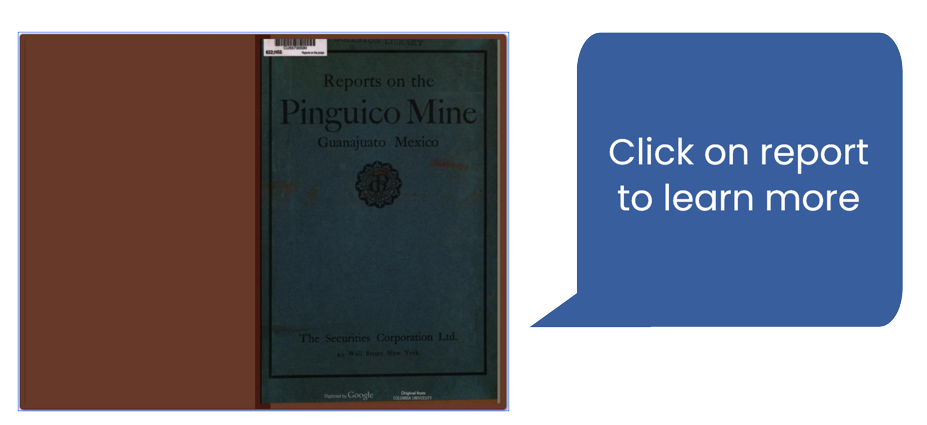 Reports of the properties of PINGUICO Mines Company by Robert T. Hill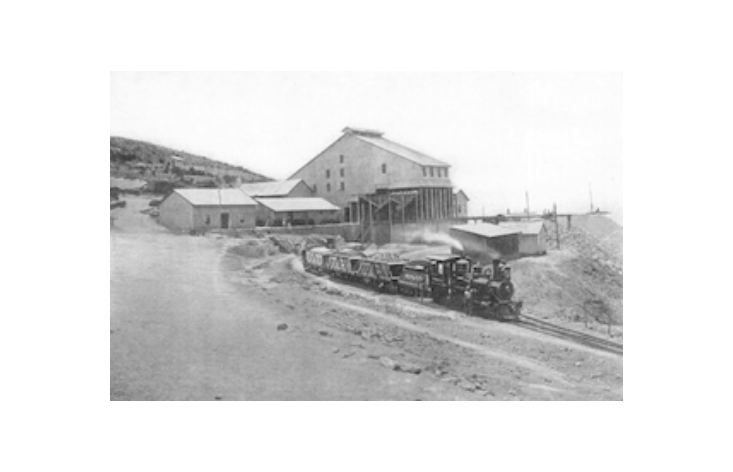 In 1906 there were two companies - a British Company and an American - mining two halfs of the same epithermal, silver and gold deposit in Guanajuato, Mexico. In 1906 they merged, and that entity - "The Pingüico Mines Co." - began trading on the New York Stock Exchange.
Historically, this 400 ton per day mine was the highest grade mine in the region from the 1890s until 1913 when operations ceased due to the Mexican Revolution; it is located just 8km from El Cubo.
GUANAJUATO SILVER IS NOW A LEADING CLAIM HOLDER IN THE GUANAJUATO MINING DISTRICT – WITH OVER 7,000 HA OF PROSPECTIVE MINING CLAIMS



Rock Samples at El Pinguico




Our El Pinguico project has two stockpiles: a surface stockpile and an underground stockpile.
We cleaned and prepped the main adit and are currently drilling additional vein material from underground.
SINCE THEN, WE RELEASED A POSITIVE PRELIMINARY ECONOMIC ASSESSMENT (PEA) MATERIAL AND CONCLUDED:
EL PINGUICO/EL CUBO
PEA Resource Estimate January 2021
Combined Project Total Resource:
718,655 Tonnes of Indicated Resource Totalling 7,214,000 Silver Equivalent Ounces
1,453,000 Tonnes of Inferred Resource Totalling 20,323,300 Silver Equivalent Ounces
Stockpiles can deliver ~40% of mill feed for the first 36 months.
Access to Level Seven gained in December; metallurgical testing is ongoing.
Underground material can be removed along level 7 or the El Pinguico shaft.
EL PINGUICO SURFACE AND UNDERGROUND STOCKPILES

Underground Jewel – El Pinguico
'El Pinguico' Project

[meaning//: pingüica. pinguica:Arbusto of name arctostaphylos pungens that grows between one and three meters. woolly leaves, its fruit is fleshy and measures up to eight millimeters wide
Take a journey and watch our story unfold as you watch these videos of our El Pinguico property.
In these videos we will be taking you directly to the El Pinguico site itself and showing you the underground stockpile material. Watch to learn more!
Episode
1 El Pinguico Shaft
Episode 2
El Pinguico Shaft
Episode 3
Reaching Adit Level 7
(El Pinguico)

More Resource Potential
There's even more resource potential – the Veta Madre Vein ("Mother Vein")
Potentially extending onto our El Pinguico property is the Veta Madre - an exciting target that's never been drilled before. GSilver is currently developing plans for a near-term drilling campaign to test the vein's potential at depth.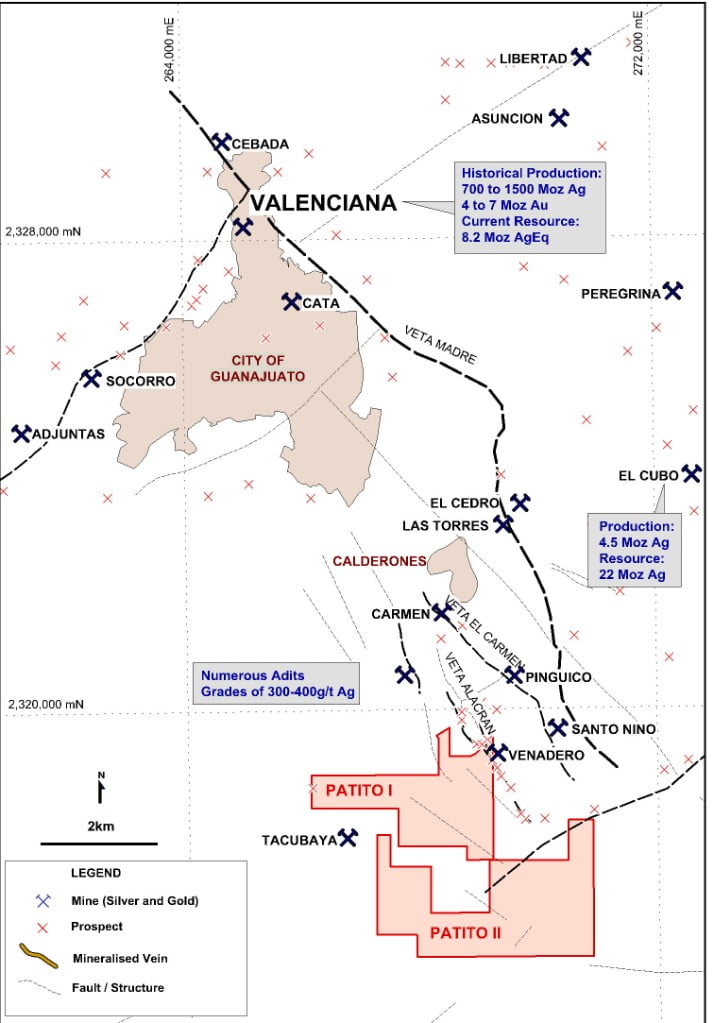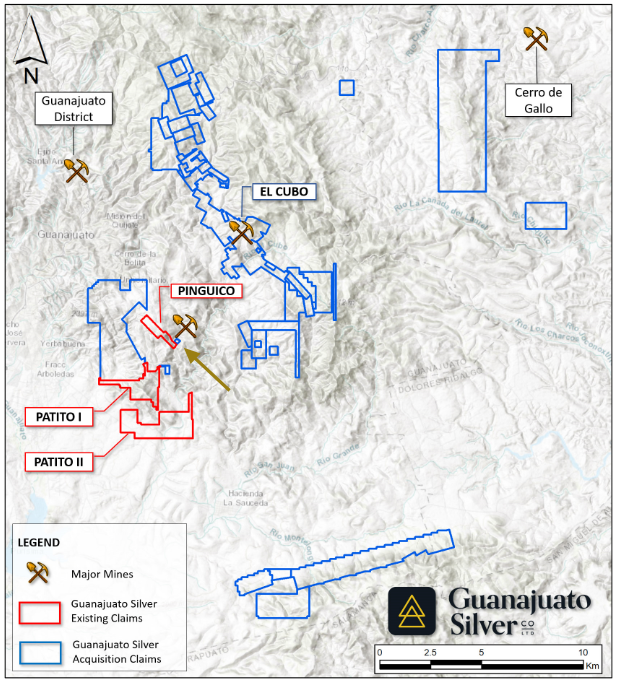 As you can see the Mother Vein fault runs south from the Valenciana mine towards our property line at El Pinguico.

Moreover, when we purchased El Cubo (outlined in blue in the map below), we also acquired a small claim block (see yellow arrow) that is perfectly positioned to drill for the Mother Vein target.

Guanajuato, Mexico
MINING FRIENDLY - VIBRANT CITY - UNESCO WORLD HERITAGE DESIGNATION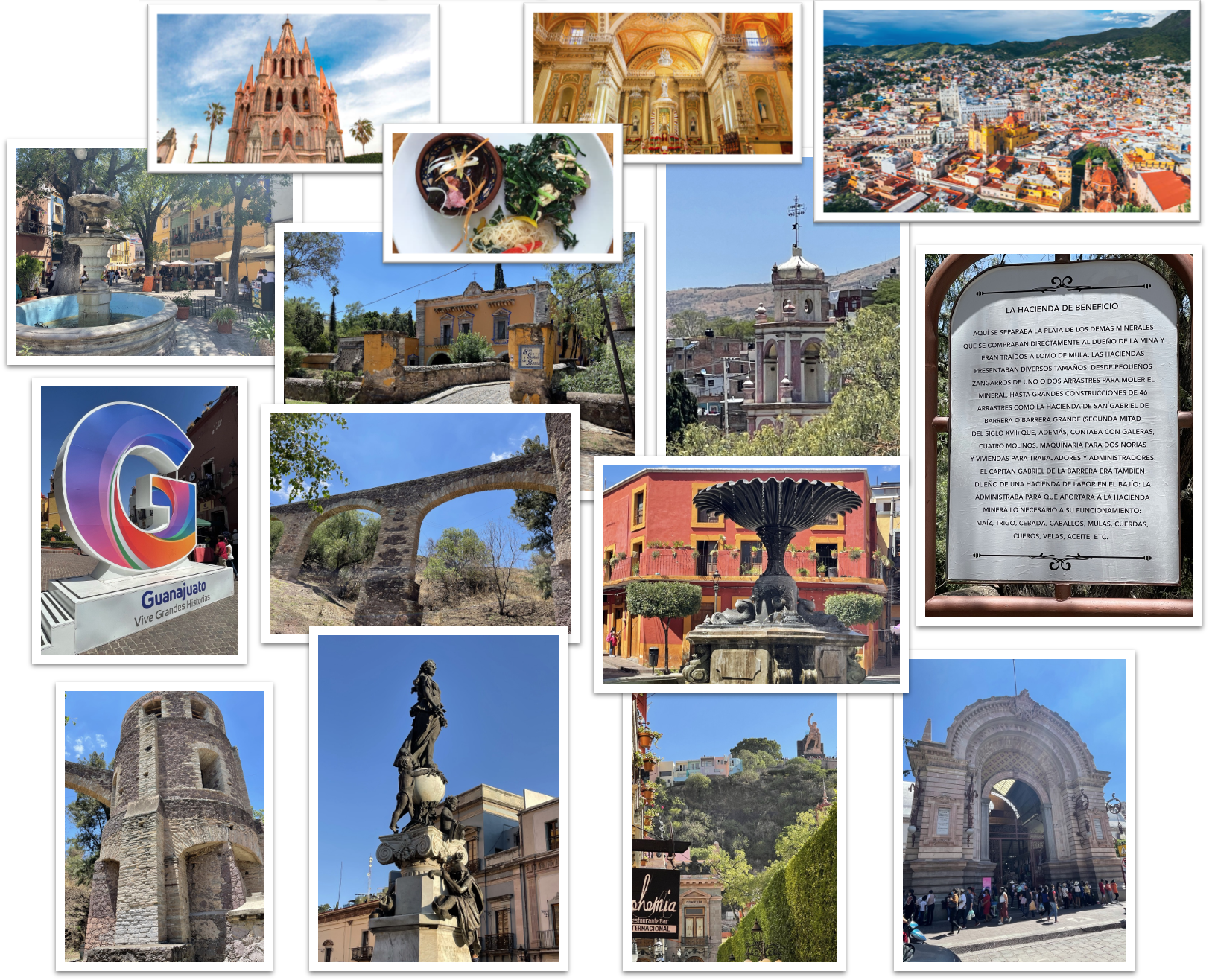 Credit: Best Day
Colonial Era History: (Excerpts From Wikipedia)
The Spanish found deposits of gold and silver here in the 1540s and soon they sent soldiers and built forts. In 1548, the outpost was formally established with the name of Real de Minas de Guanajuato by Viceroy Don Antonio de Mendoza. The population of the area grew rapidly with the arrival of Spanish and Creole migrants and indigenous and mestizo traders and workers. It was soon declared a town with the name of Santa Fe Real de Minas de Guanajuato.
Initially, the city was divided into four neighborhoods called Marfil/Santiago, Tepetapa, Santa Ana and Santa Fe. The last is considered the oldest. The city was split by a small river that served as a main thoroughfare. The oldest neighborhoods are Rayas y Mellado, Cata, La Valenciana, and Pastita - all named after the mines found there.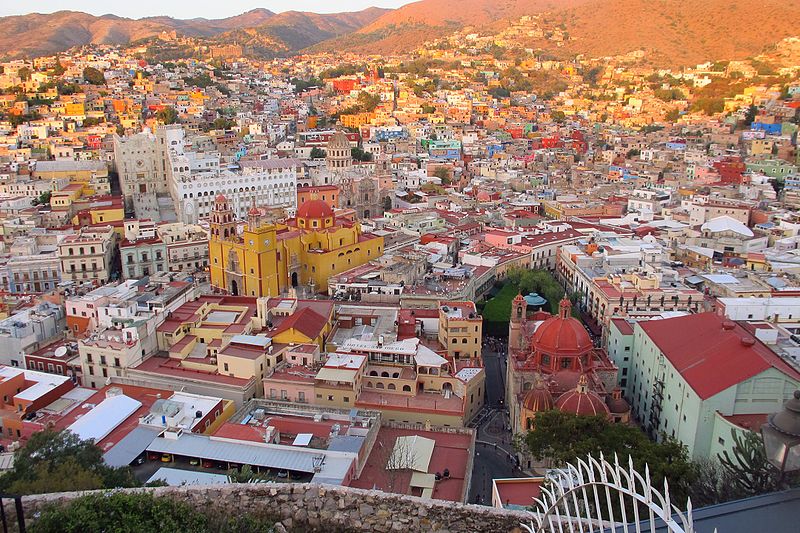 The City's Spanish colonial past is well evidenced in its splendid architecture.
The very first mineral vein discovered, called San Bernabé, attracted attention not only in New Spain, but in Spain itself. The discovery brought thousands of migrants to the area, which led to the discovery of other deposits, such as at the Rayas mine. The San Bernabé mine produced until 1928, when the ore became exhausted. Today, the remains of this mine are found in the small village of La Luz, just west of the city proper.
La Valencian Mine -
Although Veta Madre (The Mother Vein) of Guanajuato was discovered in 1548, the Valenciana mine reached its highest production levels from 1768 to 1804. The mine produced as much as 60% of world silver production in the 18th Century. In 1760, the young Antonio de Obregón y Alcocer obtained a loan from the merchant of the Rayas mine, Pedro Luciano Otero. For several years, they both continued investing in the mine until in 1768 their production increased considerably. For several decades, the La Valenciana mine produced more silver than all the mines in the Viceroyalty of Peru. On March 20, 1780, the King Charles III of Spain - at the request of the Viceroy Antonio María de Bucareli y Ursúa - granted Obregón the titles of Viscount de la Mina and count of La Valenciana - Guanajuato, Mexico.

Explore more about Guanajuato and its rich mining history, including our community engagement by clicking the button below